Featured Articles



Understanding Corporate Finance
Understand the financial decisions a company makes...

Some not so common terms used in the banking industry...

Extreme Budgeting: Is it for You?
Simple budgeting may not be enough when times are tough...

Saving Money Tips & Ideas

Pay off your Mortgage Faster

How to Beat the Rising Cost of Fuel


Options for Paying for College


Tips for the Best Financial Health

More Informational Links

Debt & Credit Management

Budgeting & Budget Planning

Investing and Financial Planning

Careers & Business Skills

Lifestyle & Culture

Featured Lessons



Paying Taxes
It's tax season. Students learn about paying taxes in our Paying Taxes Lessons category.
Multiply Decimals and Calculate Costs
Students will learn how to multiply decimals to calculate costs. In our Money Math Lessons category.

Careers: Botanist
Learn what botanists are and how a person can become one. In our Career Planning Lessons category.
Basic Money Skills Lessons

Checking Accounts & Checkbooks
Learn personal finance & money management skills with check writing and checking accounts in Saving & Investing.

Teaching Elementary Money Skills
Teaching and learning money worksheets in Counting Money Lessons and Worksheets.
More Lesson Categories

Basic Money Skills

Earning and Spending



Welcome to Money Instructor®
Teach and learn basic money skills, personal finance, business, careers, and life skills.



Teachers and Parents


Use our worksheets, lessons, and activities for teaching money, business, and life skills.


Informational Resources

articles, tutorials, and related resources...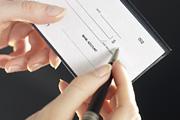 Useful personal finance information, articles, advice, and tips to help you with your own spending, financial planning, career, business, and other life events.
Lessons, Lesson Plans, Worksheets

teaching lessons for teaching money skills...
Lessons, lesson plans worksheets, and other material for teaching, learning, and understanding money related skills, personal finance, business, careers, and life skills.

Kids and Money

teaching and learning money skills...

Financial lessons, allowance tips, and kids making money ideas. Financial literacy and life skills for every child.


Fun Money Fact of the Day
The Bureau of Engraving and Printing produces 37 million notes a day with a face value of approximately $696 million.

Teach and learn money skills, personal finance, money management, business, careers, real life skills, and more.... MoneyInstructor®
Info
Other Resources
Miscellaneous